Two roadside bomb attacks 'kill 11 Afghan civilians'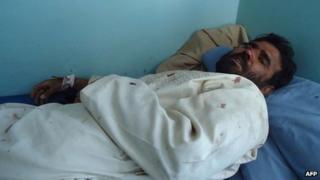 At least 11 people have been killed in a series of roadside bomb attacks targeting buses across Afghanistan, officials have told the BBC.
Seven people died, including three children, after an improvised explosive device (IED) hit a bus passing through the southern province of Ghazni.
A Ghazni governor spokesman said 17 others were injured, seven critically.
Separately, one woman and four men were killed in Helmand's Musa Qala district after their car hit a roadside bomb.
There was no immediate claim of responsibility for the attacks. However, correspondents say civilians are often caught up in roadside bombs used by suspected Taliban militants to target security forces and officials.
The IED in the Muqur district of Ghazni hit a bus travelling on diversion to the Afghan capital of Kabul from the southern city Kandahar.
Safiullah Ibrahimi, a Ghazni governor spokesman, told the BBC the attack took place at about 07:00 local time. He said that all casualties were civilian.
Ghazni province is known for having a strong Taliban presence.
An IED hit a vehicle in the Musa Qala district of Helmand, killing four people and wounding eight others, a spokesman for the provincial governor Omer Zuak said.
IED attacks also reportedly killed two civilians in Laghman province and a shepherd in the Maiwand district of Kandahar province.
Roadside bombs are often found along a number of Afghan roads - aimed at Afghan and international forces - but they often end up killing ordinary Afghans, says the BBC's Bilal Sarwary.
IEDs have increasingly been used by the Taliban over the past two years in Afghanistan and have killed hundreds of people.