Bushfires blaze in Australia's New South Wales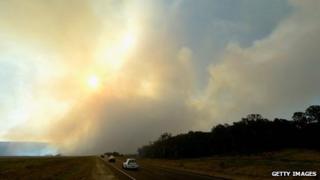 About 40 bushfires are burning in parts of the Australian state of New South Wales (NSW), west of the main city of Sydney, officials say.
Fire fighters are battling strong winds and temperatures of around 30C (86F), with much of western Sydney under a haze of smoke.
Seven fire fighters have been injured while tackling the blazes.
Bushfires are common in Australia, but they have arrived unusually early this year due to the hot and dry weather.
Winter only officially ended here last week but there has been around a month with little or no rain, says the BBC's Jon Donnison in Sydney.
Many here fear it could be a difficult summer fire season, our correspondent adds.
Some of the blazes are near the suburb of Penrith, 50km (31 miles) from the centre of Sydney, the NSW Rural Fire Service (RFS) says.
NSW Fire Service Deputy Commissioner Rob Rogers tweeted that the fires were "very erratic" and that people needed to monitor the "rapidly changing" situation.
Officials say that more than 500 fire fighters are trying to control the blazes.
Five of the seven injured fire fighters suffered smoke inhalation and two sustained minor burns, they added.
A university campus in Sydney has been evacuated due to a power outage, local reports say.
"Bushfire situation in NSW a real worry," said Australia's Prime Minister-elect Tony Abbott on Twitter.
"My thoughts are with local communities impacted and fellow RFS personnel on the frontline."
The Bureau of Meteorology recently announced that last summer, ending 28 February 2013, was the hottest on record in the country.