Bangladesh: Nobel laureate Muhammad Yunus faces tax probe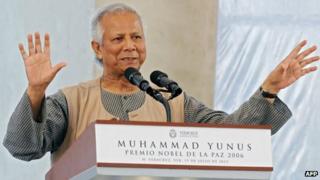 The government in Bangladesh has said it will take legal action against the Nobel laureate, Muhammad Yunus over what it says are tax irregularities.
The allegations date back to the period when Mr Yunus was the managing director of the micro-finance organisation, the Grameen Bank.
Bangladesh's central bank removed the 73-year-old economist from his position two years ago, saying he was past retirement age.
Mr Yunus denies the allegations.
His supporters have said the charges - as well as his removal from the Grameen Bank - are politically motivated.
The bulk of the allegations brought against Mr Yunus relate to his earnings abroad, including award money and royalties from his books.
The government now says these earnings were received without the necessary permission as he was the head of an institution partially owned by the state.
Bangladesh's cabinet secretary, Musharraf Hossain Bhuiyan, told reporters that the cabinet had decided to take action following a report from the country's tax authority, the National Board of Revenue.
Mr Yunus has challenged the allegations against him.
In a statement, the microcredit pioneer said that he has always declared his earnings and was within the law in claiming tax exemption.
The BBC's correspondent in Dhaka, Mahfuz Sadique, reports that Monday's decision is part of a long-running feud between Mr Yunus and the current Awami League-led government that dates back to 2007, when the winner of the 2006 Nobel Peace Prize tried to set up a rival political party.