More clashes in southern Philippines' Zamboanga city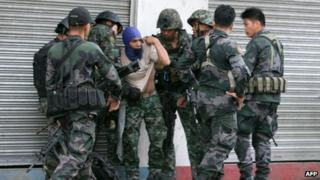 A stand-off between Philippine troops and Muslim rebels has continued for a second day, with reports of civilians being used as "human shields".
At least four people were killed in Monday's violence in Zamboanga city in Mindanao, in the south of the country.
Clashes began when a faction of the Moro National Liberation Front (MNLF) moved into the city early on Monday.
Gunshots were heard in Zamboanga early on Tuesday, reports said, and residents had fled areas hit by fighting.
All classes have been suspended and flights to and from Zamboanga have been cancelled, the city government said.
Additional troops have also arrived in Zamboanga to support the hundreds already deployed in the unrest.
Peace talks
The MNLF members arrived by boat in the city early on Monday and had wanted to raise their flag above Zamboanga's city hall, military officials said.
Nur Misuari founded the Moro National Liberation Front (MNLF) in 1971, with the goal of fighting the Philippine state for an independent Islamic nation. The MNLF then signed a peace agreement with the government in 1996.
However, Nur Misuari has complained that his faction has been marginalised in a peace agreement currently being negotiated between the government and another insurgent group, the Moro Islamic Liberation Front (MILF). Last month, he declared an independent Muslim state in the southern Philippines.
Nur Misuari has not commented on the violence. Journalists and government negotiators say they have been unable to reach him.
What MNLF forces hope to achieve in Zamboanga is not clear, reports the BBC's South East Asia correspondent Jonathan Head. The government says it is prepared to negotiate, and a likely outcome is that they are allowed to go out of the city, provided they leave the residents of the areas they are holding unharmed.
Nur Misuari's forces used Zamboanga residents as human shields before, in 2001, to secure safe passage after a failed uprising.
'No deadline'
Addressing a press conference, Interior Secretary Mar Roxas said security personnel had "stabilised the situation".
"It has been contained and isolated, and won't spread to other areas," Mr Roxas said.
There have been conflicting reports on how many people are either trapped by the fighting or being held by the rebels.
In the latest update, Mr Roxas said that the rebels were using around 180 residents as "human shields".
While the government had described them as hostages, Mr Roxas said: "Whether they are hostages or not is still being validated."
"It appears that what happened is not hostage-taking but more of them being turned into human shields by the MNLF forces who entered their communities."
"People are free to get in and out of there, they are not bound, they are not detained," he said.
President Benigno Aquino said no deadline had been set for ending the crisis.
"We can't be giving deadlines when what we want to ensure is that no more civilians are affected, hurt or killed," he said.
There are conflicting accounts of how many people have been killed in the clashes.
Zamboanga Mayor Isabelle Climaco-Salazar said in a statement on Monday that six people had been killed, citing police sources.
However, a post on the Zamboanga City Government's Twitter account later gave the death toll as four.
At least five civilians held by rebels were freed on Tuesday morning following negotiations, the police said.
"They forced us to go with them last night, saying they did not know the way," one woman told reporters after her release.
Hundreds of evacuees displaced from their homes spent Monday night in a local sports stadium, AP news agency reported.
"We were by the door and we could hear the shooting outside so we decided to go to the kitchen but when we got there the ceiling collapsed," evacuee Nhurain Ilamado told AP.