'Too fat' chef Albert Buitenhuis in NZ visa reprieve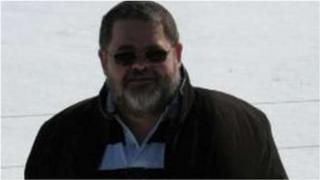 A South African man facing deportation from New Zealand for being too fat has been given a 23-month reprieve.
However, Albert Buitenhuis will not be allowed any publicly-funded healthcare, a government official said.
The chef, who weighs 130kg (20st 6lb), appealed two months ago after his work visa renewal application was rejected on the grounds he did not have "an acceptable standard of health".
He has shed 30kg since he moved to the city of Christchurch six years ago.
Associate Immigration Minister Nikki Kaye said the main reason Mr Buitenhuis's application had been declined was due to the osteoarthritis in his knee.
However, she granted Mr Buitenhuis and his wife, Marthie, visa extensions but said he would "have to meet any health costs himself".
Mr Buitenhuis, who wrote about his experiences in a blog called The Too Fat Chef, told local media that the government's decision was "bitter sweet".
"Of course, we are pleased and relieved that we are now able to stay. But at the same time we would rather rewind so that none of this took place," he said in an interview with Fairfax media.
"We are really starting from scratch again. We have lost thousands of dollars fighting this and we don't know where we will live because our home is gone. I am glad the fight is over but I am still afraid of what lies ahead."
Mr Buitenhuis, who is 1.78m tall, said he aims to lose another 25kg over the next few months.
New Zealand has one of the highest obesity rates in the developed world, with nearly 30% of people overweight.
The immigration department has said it is important that "all migrants have an acceptable standard of health to minimise costs and demands on New Zealand's health services".