Fourteen hurt as Thai plane skids off runway in Bangkok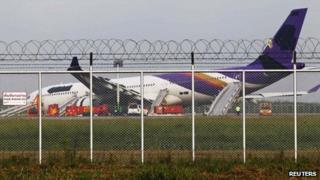 A Thai Airways plane has skidded off the runway while landing at Bangkok's main international airport, injuring 14 people.
The Airbus A330-300 was arriving from Guangzhou in China into Suvarnabhumi Airport when the incident occurred.
Thai Airways said the landing gear malfunctioned, causing the aircraft to skid. Passengers were evacuated using emergency slides.
An investigation into Sunday night's incident had begun, the airline said.
"The nose gear failed as the plane touched the runway, causing the plane to skid," the airline said in a statement.
"Sparks were noticed from the vicinity of the right landing gear near the engine; the matter is under investigation."
A total of 288 passengers and 14 crew were on the plane, the airline said. The 14 injured passengers were taken to hospital.