Australia's PM-elect Tony Abbott starts power transition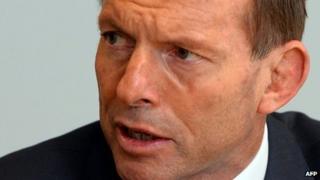 Australia's PM-elect Tony Abbott has arrived in Canberra to begin the transition to his coalition government, after Saturday's decisive election win.
Mr Abbott's Liberal-National coalition won a commanding lower house majority, ending six years of Labor party rule.
The make-up of the senate, however, remains unclear. The coalition could be forced to rely on the support of minor parties to pass legislation.
This could hit Mr Abbott's plans to repeal the carbon and mining taxes.
Mr Abbott is likely to be sworn in as prime minister next week, replacing outgoing Labor leader Kevin Rudd.
Subsidies planned
Mr Abbott said he expected parliament to reconvene in late October or early November to tackle the carbon issue.
"My emphasis will be on being purposeful, methodical, calm and conscientious," he told local radio.
"And the last thing I want to do is rush the parliament back for a photo opportunity before the substance of the work is there for it to do."
Labor and the Greens - who will control the Senate until July 2014 - say they will not support any repeal of the tax.
When the new senators take their seats in July, Mr Abbott will still have a hill to climb, with the Greens and a handful of fringe parties holding the balance of power.
The tax on carbon emissions, introduced by Labor, has been unpopular with a public who perceive it as driving up power bills.
Mr Abbott says he wants to replace it with a programme of subsidies to farmers and industry to reduce emissions.
So far Mr Abbott has confirmed three key appointments on his front bench.
National Party leader Warren Truss will become his deputy and Joe Hockey will become treasurer. Liberal Party deputy leader Julie Bishop will become foreign minister.
The Labor party, meanwhile, is beginning the process of choosing a new leader, after Mr Rudd said he would not recontest the leadership.
Names in the mix so far include Bill Shorten, seen as a major powerbroker, and Anthony Albanese, who served as Mr Rudd's deputy.