Asif Ali Zardari steps down as Pakistan president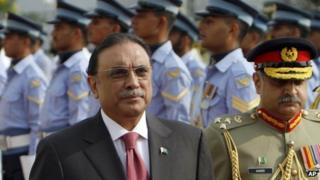 Pakistani President Asif Ali Zardari has stepped down at the end of his five-year term in office.
He becomes the first democratically elected president in the country to finish a full tenure in office.
The 58-year-old widower of former Prime Minister Benazir Bhutto received a guard of honour from the armed forces and shook hands with staff before leaving the presidential palace.
His successor Mamnoon Hussain will be sworn in on Monday.
Pakistan's largely ceremonial president is elected by members of parliament and the four provincial assemblies. The incumbent has no political power.
Mr Zardari replaced former military ruler Pervez Musharraf and agreed to constitutional amendments in 2010 that handed many of the president's powers to the prime minister.
His main achievement is seen as having presided over Pakistan's first civilian government to serve a full term.
But his time in office was dogged by confrontation with the military and judiciary.
Analysts say his government did little to address mounting economic problems and the country remains beset by a Taliban insurgency.