Taliban bombers hit Afghanistan Wardak intelligence HQ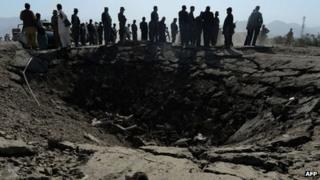 At least four Afghan intelligence staff have been killed after suicide bombers attacked offices of the provincial intelligence department in Wardak.
Five suicide bombers were shot dead in the series of co-ordinated attacks, an hour away from the capital Kabul.
More than 100 people - mostly civilians - were injured, police said.
Separately a Nato air strike on Saturday in the eastern province of Kunar killed 15 people, including nine civilians, Afghan officials said.
But a Nato spokeswoman told the BBC that a precision attack had killed 10 insurgents and that she had no reports of civilians dying.
Huge explosion
Police say that that the suicide bombers in Wardak were targeting key government offices within the provincial intelligence department in Maidan Shar, the capital city of Wardak.
Nearby buildings and shops were destroyed, a statement from the governor's office said.
The Taliban have claimed responsibility for the attack.
In a statement, the governor's office said at least six militants launched the attack shortly after a powerful car bomb was detonated by a suicide attacker.
Local shopkeepers told the BBC that the explosion was so powerful that it broke windows of homes at least 1km (0.6 miles) away.
Afghan special forces engaged the five other attackers in heavy exchanges of fire.
Taliban insurgents and al-Qaeda fighters use Wardak as a gateway to launch attacks on nearby Kabul province.
They also frequently launch attacks in Kunar province, which borders Pakistan's lawless tribal areas.
Harsh terrain
Police in Kunar told the BBC's Bilal Sarwary in Kabul that the airstrike on Saturday hit a pick-up truck soon after three Arab and three Afghan militants boarded it in the village of Gambir in the remote and mountainous Peach River Valley in Watapur district on Saturday evening.
Civilian casualties are a source of tension between Afghan and Nato forces.
In February President Karzai ordered a ban on Afghan security forces calling in air strikes in residential areas after 10 civilians were allegedly killed in a Nato night attack in Kunar.
Nato troops are scheduled to withdraw from Afghanistan by the end of 2014 and have gradually been handing over responsibility for security to their Afghan counterparts, who now lead about 90% of all security operations.
Yet the Afghan air force has limited strength, so Nato air support is considered crucial, especially for operations in harsh terrain and mountainous areas.
Officials say that women and children were among the casualties.
The Kunar area has been the site of intense fighting between the Taliban and American and Afghan forces for much of the last 10 years.
In August 2012 a US drone attack in Kunar killed Mullah Dadullah, a high-ranking Pakistani Taliban commander. In May of that year Nato said that an air strike had killed senior al-Qaeda leader Sakhar al-Taifi in the same province.
About 1,000 Afghan civilians have been killed and more than 2,000 wounded in the first half of this year - most of them in insurgent attacks - according to the United Nations.
This represents a 23% increase in casualties compared with the same period last year.