Cambodia's ruling CPP party confirmed election winner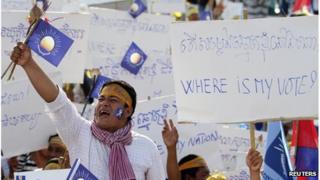 Cambodia's ruling People's Party (CPP) has officially won July's disputed general election, the national election committee has confirmed.
Prime Minister Hun Sen's CPP won 68 seats, compared with 55 for the opposition Cambodia National Rescue Party (CNRP), the committee said.
The televised announcement came after thousands of people took part in a rally in the capital Phnom Penh to protest against alleged electoral fraud.
Hun Sen has run Cambodia for 28 years.
The 61-year-old has vowed to stay in power until he is in his seventies.
Opposition leader Sam Rainsy claimed there was widespread rigging in the election.
The result confirmation means he will no longer be able to legally contest the vote, but Mr Rainsy said he would not give up.
"We do not accept results that do not reflect the real will of the people. These are the results of voter fraud," he told reporters.
"We will continue to protest all over the country, not only in Phnom Penh. Protests will take the form of marches,'' he said.
According to preliminary figures, the CPP won 3.2 million votes, while Mr Rainsy's party obtained 2.9 million.
The election commission has yet to officially confirm these numbers - it has only confirmed the CPP win.
On Saturday, huge crowds of opposition supporters gathered in Phnom Penh's Democracy Park in what organisers described as a peaceful protest based on Buddhist prayer.
Many demonstrators brought lotus flowers symbolising peace.
Mr Rainsy told the crowd it was a "historic day", saying that "those who steal our votes won't live happily".