Cambodia opposition holds rally against 'poll fraud'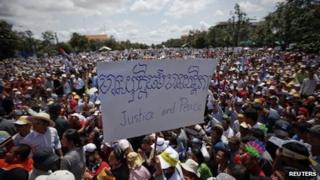 Thousands of Cambodians are taking part in a rally in Phnom Penh to protest against alleged electoral fraud.
The main opposition - the Cambodia National Rescue Party - is leading the protest.
It claims there was widespread rigging in July's election, which was narrowly won by Prime Minister Hun Sen.
Opposition leader Sam Rainsy had promised the protest would be peaceful, but the government has accused him of stirring up a rebellion.
Cambodian elections have often been marred by allegations of fraud.
The unexpectedly close contest this year has spurred the opposition to keep challenging the official results, says the BBC's South-East Asia correspondent, Jonathan Head.
Peace symbols
The demonstration is being held in Democracy Park, and organisers say it will be a peaceful event based on Buddhist prayer.
Many protesters have brought lotus flowers symbolising peace.
Mr Rainsy told the crowd it was an "historic day", saying that "those who steal our votes won't live happily".
One protester, Klork Kohal, told the BBC: "I want justice for myself and for the Cambodian people."
According to preliminary official results, Hun Sen's Cambodian People's Party won 3.2 million votes, compared with 2.9 million for the Cambodia National Rescue Party.
The election commission is expected to announce the final results on Sunday.
With all the institutions of state, including the election commission, under the thumb of Hun Sen, this protest is the only way opposition supporters can challenge the result, says our correspondent.
Hun Sen, 61, has governed Cambodia for 28 years, and has vowed to stay in power until he is in his seventies.
But growing dissatisfaction with the corruption and inequality that have flourished under his rule have given new momentum to the opposition, adds our correspondent.