Afghan female police officers face uphill battle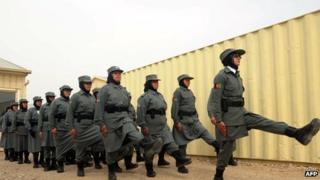 Under the Taliban, female police officers were banned. Now more than a decade later, the government of Afghanistan is unlikely to meet its own targets to increase the number of women in the force.
A hard-hitting report by the UK charity Oxfam says that the target to recruit 5,000 policewomen by the end of next year is looking "increasingly unrealistic" and is "set to fail".
Just under 1,600 policewomen are serving in the Afghan police, with around 200 more in training, yet females still make up just 1% of the force.
Britain contributes around £8m ($12.5m) to police salaries and considers more Afghan women police on the streets to be an important part of law enforcement. So too does the government of Afghanistan, but is there the sustained political will?
There are huge obstacles to overcome which are holding recruitment back. Back in 2005, just 180 out of more than 53,000 police officers were female.
Now that number has increased eight-fold.
Inequality issues
Among the hurdles are deep-seated cultural traditions, high levels of female illiteracy and the threat of sexual harassment.
The BBC spoke to one teenager who was raped by a policeman after she ran away from home. She eventually got justice.
After the intervention of outside agencies, the police officer was hauled before his boss and finally jailed. Yet there is strong evidence that within the police's own ranks, predatory sexual behaviour is not uncommon.
Although General Ayub Salangi, the former police chief of Kabul says he "totally rejects allegations of sexual abuse within the police force", the Afghan human rights commission claims that many sexual assaults have been committed by the police itself.
Gen Salangi's force in Kabul has been more progressive than most, but there are still issues of inequality.
Oxfam reports that policewomen often lack basic uniforms, which male colleagues receive, changing facilities and privacy. In addition, some police chiefs are "reluctant" to accept female recruits.
Ostracised by society
Parigul Saraj is something of an exception. Once a beautician, she now works on vehicle check points - one of the most dangerous jobs for police because of the threat of suicide attacks.
Her job is to search cars and women - a man doing this with females present is a cultural taboo.
But she says she has been ostracized by members of her family and neighbours. The very fact that she is sometimes summoned in the middle of the night to take part in police operations comes with a degree of social stigma.
"I feel bad when people think negatively about me," she admits, in the privacy of her home.
A woman leaving home in the middle of the night is considered evidence enough to accuse her of being a prostitute.
With elections coming up next year, there is pressure to get more women police recruits and give them meaningful jobs, and "not just serve tea", as one Oxfam policymaker stressed.
But there are concerns that once the spotlight is switched off Afghanistan, with the withdrawal of foreign troops next year, the dash towards greater equality may slow down to a stroll. Or even disappear altogether.