Burma jails Muslim for attempted rape that sparked riot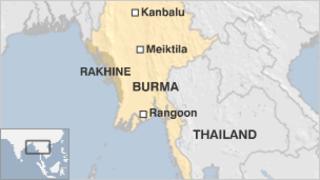 A court in Burma has sentenced a Muslim man to seven years in prison for the attempted rape of a Buddhist woman that triggered religious riots last month.
The violence around the town of Kanbalu came after police refused to hand over the man, Hsan Min Oo, to a mob.
Ten other men remain on trial for destroying Muslim properties. Shops, businesses and homes were set on fire.
It was the latest in a series of attacks on Muslims in Buddhist-majority Burma, which is also known as Myanmar.
Hundreds of people were left homeless after the 24 August riots around Kanbalu in the north-west, which broke out in the nearby village of Htan Gone.
Officials said Hsan Min Oo had been sent to Mandalay prison following what was described as a speedy trial.
Correspondents say the violence was a stark reminder of how much anti-Muslim sentiment there is in Burma and how little the authorities are doing to contain it.
Violence in the central town of Meiktila in March left at least 43 people dead, most of them Muslims.