N Korea agrees to reopen military hotline with Seoul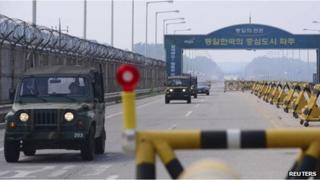 North Korea has agreed to restore a military hotline with South Korea as tensions between the two ease, say officials in the South.
The North cut the connection in March following its third nuclear test in February and the international sanctions that followed.
Two other hotlines cut off at the same time were restored in June and July.
However, the joint industrial park at Kaesong, closed as part of the same dispute, has yet to reopen.
The hotline is used to facilitate the travel of South Korean workers to Kaesong, a rare symbol of North-South co-operation.
In the past few weeks, the two Koreas have agreed to work towards restarting production at Kaesong, which has been closed since April.
About 53,000 North Korean workers were employed at Kaesong, working for more than 120 South Korean factories.
The military hotline will reopen on Friday, South Korea's Unification Ministry said.
Two other hotlines have been reconnected, one with the Red Cross and another used to communicate with the UN Command at Panmunjom in the Demilitarised Zone which divides the two Koreas.
The North and South remain technically at war after the 1950-53 conflict, although an armistice was signed.