Indonesia jails eight soldiers over Yogyakarta prison killings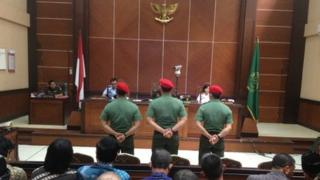 Eight members of Indonesia's special forces have been jailed for storming a prison and shooting dead four inmates in a revenge killing earlier this year.
Three ringleaders were given sentences ranging from six to 11 years. Five other men, who played a lesser role, were sentenced to 21 months each.
In March they stormed a prison in Yogyakarta province and murdered four inmates suspected of killing a solider.
The ringleaders - who were dismissed from the army - say they will appeal.
Presiding judge Joko Sasmito said the men had smeared the army's honour with their actions. The case has been followed closely in Indonesia where human rights groups say the army is notorious for acting with impunity.
But the soldiers have also attracted supporters and dozens staged a rally outside the heavily-guarded military court in Yogyakarta where the trial was taking place.
'Cold-blooded revenge'
Second Sergeant Ucok Tampubolon, Second Sergeant Sugeng Sumariyanto and First Corporal Kodik received 11, eight and six years respectively.
It was on 23 March that 12 special forces (known in Indonesia as Kopassus) members stormed into Yokyakarta's Cebongan Prison and held around 40 inmates and wardens hostage, eventually shooting four dead.
The four men who were killed had been arrested just days earlier on suspicion of beating a special forces member to death at a night club.
The judge said that Second Sergeant Tampubolon felt compelled to kill them because his murdered colleague had saved his life while they were on duty together in the restive province of Papua.
The verdicts for the four remaining soldiers on trial over the murders are due on Friday.
The attack was described at the time as cold-blooded revenge, and an example of how far members of Indonesia's military would go to protect their comrades, reports the BBC's Karishma Vaswani in Jakarta.