Australia opposition proposes foreign aid cut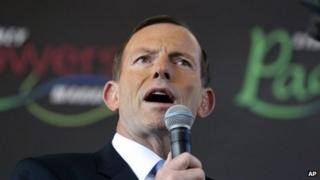 Australia's opposition says it will slash foreign aid, as it set out more planned cuts and policy costings two days before the general election.
Shadow Treasurer Joe Hockey said the A$4.5bn ($4bn, £2.6bn) cut in foreign aid over three years would be diverted to domestic infrastructure projects.
The announcement means the opposition has now set out total cuts of A$42bn.
The ruling Labor party has criticised the timing of the figures' release and called the data unrealistic.
Opposition leader Tony Abbott currently leads Prime Minister Kevin Rudd in opinion polls ahead of Saturday's election.
The economy is a key issue, amid a slowdown in growth as Chinese demand for Australia's resources weakens.
'Unsustainable'
The opposition Liberal-National coalition has already announced a A$31.5bn savings plan, which includes ending costs associated with the mining and carbon taxes - which it plans to abolish - and cutting public sector jobs.
It also plans to rescind an planned increase in Australia's refugee intake.
Thursday's announcement in Melbourne featured another A$9bn in cuts.
"It is unsustainable to continue massive projected growth in foreign aid funding whilst the Australian economy continues at below trend growth," Mr Hockey said in Melbourne.
"Australia needs a stronger economy today so that it can be more generous in the future."
The coalition says it will be able to save another A$1bn with its Stop the Boats policy, which pledges to turn back asylum-seekers trying to make their way to Australia via Indonesia.
Mr Hockey said that the coalition's budget would improve the budget bottom line by A$6bn, and also reduce government debt by A$16bn by June 2017.
Ahead of Mr Hockey's announcement, Mr Abbott defended the coalition's decision not to have the costings of two of its major policy proposals independently reviewed in the lead-up to the polls.
He said policy planning on climate change and national broadband was "bulletproof".
But the timing of the coalition's announcement has been met with criticism from Labor, who has accused the coalition of seeking to avoiding scrutiny of its figures.
Prior to the announcement, Mr Rudd criticised Mr Abbott for not revealing the budget until a black-out on radio and TV election advertising came into effect at midnight on Wednesday.
Deputy Prime Minister Anthony Albanese has called the coalition's policy costings a "farce", adding that there were "some shockers" in the figures.
The planned cut in foreign aid, meanwhile, has drawn criticism from the UNHCR, a rights group and the Greens.
"This decision has wiped out a generation of youth idealism, and broken the hearts of Australians who dare to care about people beyond our borders," World Vision Australia chief executive Tim Costello told Reuters news agency.