Fukushima nuclear plant still 'unstable', regulator says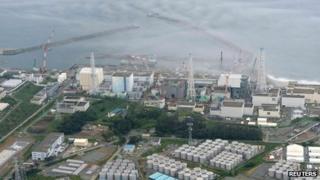 The crisis at Japan's Fukushima nuclear plant "has not ended", the country's nuclear watchdog has warned, saying the situation there is "unstable".
Watchdog chief Shunichi Tanaka also accused the plan's operator of careless management during the crisis.
He added that it may not be possible to avoid dumping some contaminated water into the ocean.
The comments come a day before the Japanese government is due to unveil plans to rescue the clean-up operation.
Mr Tanaka's comments come after Fukushima's operator, the Tokyo Electric Power Company (Tepco), said radiation levels near one tank were 18 times higher than previously thought.
However, Mr Tanaka said that reports that this level of radiation could be lethal to workers after four hours of exposure were exaggerated.
"Supposing the figure of 1,800 millisieverts per hour is correct, it is beta radiation. It will not penetrate as long as there is a 5-10 millimetre-thick plastic shield or you wear leather shoes," he said.
'Dumping' option raised
The damage to the plant from the 2011 tsunami has necessitated the constant pumping of water to cool the reactors. The process creates an extra 400 tonnes of contaminated water every day.
It was revealed last month that some of that water was leaking from storage tanks at the site.
On Monday, Tepco said a patrol of workers had found a new area of high radiation near the tanks, Reuters reports.
Mr Tanaka told reporters that the only long-term solution to the problem of contaminated water was to filter it and that it might "not be possible to avoid dumping it in to the sea".
That will be extremely unpopular with local fishermen and possibly with Japan's neighbours, the BBC's Rupert Wingfield-Hayes reports from Tokyo.
The plant was crippled by the 2011 earthquake and tsunami and the plant has since been hit by a series of water leaks and power failures.
The tsunami knocked out cooling systems to the reactors, three of which melted down.
The latest leak is believed to be the fourth major leak from storage tanks at Fukushima since 2011 and the worst so far in terms of volume.
Experts have said the scale of water leakage may be worse than officials have admitted.