Malaysia rounds up thousands of migrant workers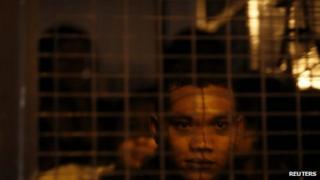 The authorities in Malaysia have detained 2,500 migrants in a campaign to deport some half a million illegal immigrants.
Tens of thousands of police, soldiers and local enforcement personnel are taking part in Malaysia's largest round-up of foreign workers.
Many of the workers come from Indonesia, Bangladesh and Burma.
Human rights groups have expressed concern about possible abuse of the detainees.
Workers scatter
Squads of Malaysian enforcement officers descended on construction sites, plantations and ramshackle settlements as the campaign got underway on Sunday.
In one raid on a palm oil plantation, workers scattered into the forest, but officials said they would not be able to hide for long. They say the campaign will run until the end of the year.
Millions of migrants from neighbouring Indonesia and the Philippines flocked to Malaysia to work during the country's construction and palm oil boom. Many others come from further afield, particularly Bangladesh, Nepal and Burma.
Falling growth, a surplus labour force and fear of crime have fuelled a backlash against the foreigners.
The authorities are targeting half a million migrants who came to their attention during a major amnesty and registration programme two years ago.
They say they will send the detainees home by ship as soon as they can. They are also threatening to prosecute anyone found employing or harbouring illegal migrants.
Human rights groups say the foreign workers face possible mistreatment in custody. They say many are already the victims of exploitation from the agencies that trafficked them to Malaysia.