Khmer Rouge tribunal workers strike over unpaid wages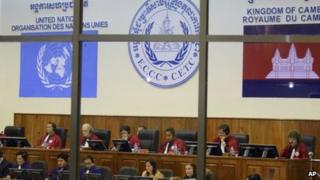 Cambodian employees of the UN-backed Khmer Rouge tribunal have gone on strike over unpaid wages, a court spokesman has said.
At least 200 employees stayed away from work because they had not been paid since June, the spokesman said.
The court - which has only convicted one senior Khmer Rouge figure - has had funding-related issues since 2006.
It was set up to seek justice for up to two million people who died under the Maoist regime's 1975-1979 rule.
Those believed to be enemies of the regime were tortured and killed, while hundreds of thousands more died from starvation or overwork because of policies that emptied the cities and forced people into the fields.
The regime's leader, Pol Pot, died in the late 1990s and to date only one prominent figure - former prison chief Duch - has been convicted of crimes committed under the regime.
The workers, who began their strike on Sunday, include translators and interpreters.
"If translators, interpreters and other sections do not work, it means that the work of the court will be stalled," court spokesman Neth Pheaktra told Agence-France Presse news agency.
Last week, UN Secretary-General Ban Ki-moon urged international donors to try to help, saying the "very survival of the court is now in question".
The court is funded by donations from 35 countries and the Cambodian government. Japan, the US and Australia have been the court's top international donors.
But donors have in recent months expressed concern over a lack of progress by the court.
The court has charged a total of five people so far, including Duch. Of these, former Khmer Rouge Foreign Minister Ieng Sary died in March and his wife, Ieng Thirith, the regime's former social affairs minister, has been ruled incapable of standing trial because of illness.
The cases of former head of state, Khieu Samphan, 82, and Pol Pot's deputy, Nuon Chea, 86, are currently ongoing.