Assange's uphill struggle for Australia senate seat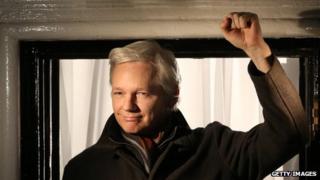 Will Julian Assange soon be relocating from his home at the Ecuadorean Embassy in London to a seat in Australia's senate? The short answer is: probably not.
So how does one run for senate in Australia while living on Ecuadorean soil in England?
The WikiLeaks founder launched his campaign on 25 July via a dodgy Skype line to supporters gathered in a library in the state of Victoria, where his name is on the ballot.
Before the picture cut out, he explained that his party would "bring investigative journalism to the heart of the Australian senate and bring the government to account".
Professor George Williams, who teaches constitutional law at The University of New South Wales, says the move is unprecedented.
"This is a first as far as I'm aware. I don't think anyone has been as audacious in the past as he is being on this occasion," he said.
"Normally, politicians emphasise their links to the community, so running while holed up in an embassy outside the country is a very audacious move."
Mr Assange has been living in the Ecuadorean Embassy for more than a year in order to avoid extradition to Sweden, where he is wanted for questioning in connection with sexual assault allegations.
He says he fears leaving the premises would expose him to potential extradition to the US on possible charges of espionage over WikiLeaks' release of classified documents.
Although he has not actually been charged with any crime, Mr Assange's precarious position would present problems if he were to be elected, according to Prof Williams.
"Where the legal issue will arise is in Section 20 of the constitution. It says the place of a senator shall become vacant if for two consecutive months of any session of the parliament he, without the permission of the senate, fails to attend the senate. And he'd have to actually turn up to be sworn in," he said.
'Radical openness'
But these complications have not put a damper on Mr Assange's political aspirations.
For the past month, he has been reaching out to his potential constituents from his media room inside his temporary home at the embassy through Skype, Google Hangouts, YouTube videos and plenty of interviews, some of which seem to be testing Ecuador's hospitality.
A recent parody video, which mocked Australian politicians and featured Mr Assange in a blond wig lip syncing to John Farnham's You're the Voice filmed inside the embassy, garnered an unhappy response from Ecuadorean President Rafael Correa.
Mr Correa released the following statement: "The rules of asylum in principle forbid meddling in the politics of the country that grants asylum…
But as a matter of courtesy we are not going to bar Julian Assange from exercising his right to be a candidate. Just so long as he doesn't make fun of Australian politicians or people."
The WikiLeaks Party has a total of six candidates running for seats in Australia's upper house, with Mr Assange leading the charge on a platform of climate change, tax reform, asylum seekers, freedom of speech and "radical openness".
But the young party has already hit a major snag. Recent infighting has resulted in the resignation of Mr Assange's fellow running mate in Victoria, Leslie Cannold, one of the most well-respected of the WikiLeaks candidates, as well as a large number of campaign staff, which some say has dealt a blow to the legitimacy of the party.
But the candidate himself is confident. With just a few more days to go before the election, Mr Assange told the Australian Associated Press: "It's going to be a fight but the chances are good."
'No support'
His message is resonating with some sections of the electorate.
Well-known Australian journalist and human rights advocate Mary Kostakidis is a vocal supporter. She is cautiously optimistic about Mr Assange's chances of landing a senate seat.
"Through his work with WikiLeaks, he has engaged the public imagination," she said.
But the general consensus here is that he has almost no hope of winning.
Antony Green, the Australian Broadcasting Corporation's chief political analyst, said that despite his name recognition, Mr Assange does not have a shot: "He just doesn't have the support. He won't get enough votes to get elected."
And when you consider that he is running against 96 other candidates from 40 parties, all competing for just six senate seats in the state of Victoria, it is clear just how difficult a task getting elected is.
Dr Rodney Smith specialises in Australian political parties in the Department of Government at the University of Sydney. He says running a minority party is a serious undertaking.
"The difficulty is that it is very hard to run a successful campaign in Australian politics if you set up a party late in the game and your main candidate isn't in the country out and about campaigning," he said.
"Like a lot of parties, [the WikiLeaks Party] underestimated the time and effort it takes to build up a competitive minority party."