Afghan Taliban kill 15 police in Farah province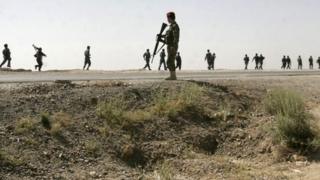 The Taliban have ambushed a police patrol in the western Afghan province of Farah, killing 15 policemen and injuring 10 others, officials say.
The attack took place on Highway One - the main road connecting Kabul, Kandahar, Herat and Mazar-e-Sharif - which has seen many insurgent attacks.
Police said a number militants died in fighting following the ambush.
It is the latest in a series of attacks ahead of the withdrawal of foreign combat troops in 2014.
"A convoy of police who went to inspect a highway patrol unit were caught in a Taliban ambush [late] on Wednesday," Farah province spokesman Abdul Rahman Zhuwandi told the AFP news agency.
"There was fighting between them in which 15 national police were killed and 10 wounded, while several Taliban were also killed."
The ambush followed efforts earlier on Wednesday by the Taliban to overrun a Nato base in the eastern province of Ghazni.
Although their attack was repulsed, a US soldier was killed and several Polish and Afghan troops were wounded.
Officials said that while the insurgents breached the outer perimeter of the base, several of them were killed as they strove to get access to its interior.
Correspondents say that it was one of the most brazen attacks by the Taliban this year.
"The Afghan army prevented huge casualties among civilian and military personnel," defence ministry spokesman Gen Mohammad Zahir Azimi told the AP news agency.