Philippine President Benigno Aquino cancels China trip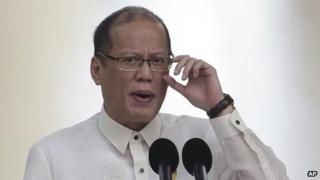 Philippine President Benigno Aquino has cancelled a planned trip to China on Beijing's request, officials say.
His decision came after China said Mr Aquino should visit "at a more conducive time", a spokesman from the Philippine foreign ministry said.
Mr Aquino had said on Wednesday that he would attend a trade expo in Nanning.
Tensions between the two countries have been high since a stand-off at Scarborough Shoal, which both claim, in the South China Sea last year.
China's foreign ministry, however, told Reuters news agency that "China never extended an invitation to the Philippine president". It did not elaborate further.
The China-Asean Expo is scheduled to open on Tuesday. The Philippines, part of the Association of South-east Asian Nations (Asean), is the trade fair's "country of honour" this year.
"The president has decided not to proceed... taking into consideration China's request for the president to visit China at a more conducive time," Raul Hernandez, Philippine foreign ministry spokesman, said in a statement.
He added that the Philippines "will continue to abide by our principled position that bilateral relations can advance despite differences".
China sent the request late on Wednesday, Mr Hernandez said.
China's claims of a U-shaped swathe of the South China Sea overlap those of several South East Asian nations.
The row between Manila and Beijing has been rumbling since April 2012, when government vessels from both nations faced off for several weeks at Scarborough Shoal.
Vietnam, Brunei, Malaysia and Taiwan also have overlapping claims.