Record doping penalty for Australia's Essendon football club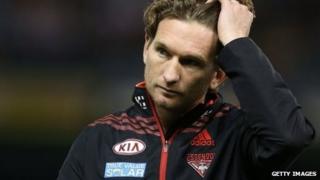 One of Australia's best-known football clubs has received the heaviest sanctions in the sport's history after being investigated by the country's anti-doping agency.
The Essendon Australian Rules Football Club received a record fine and was barred from end-of-season finals.
Its coach and manager have been suspended.
The Australian Rules Football League (AFL) said the investigation had made "deeply disturbing" discoveries.
Essendon was the focus of an extensive six-month investigation by the Australian Sports Anti-Doping Authority (Asada).
The club was found guilty of using an "experimental" supplements programme on its players, the AFL said.
It was "inadequately vetted and controlled", and failed to protect the health and safety of the team.
The team was slapped with a record A$2m ($1.8m; £1.2m) fine.
Coach James Hird was banned for 12 months and admits "a level of responsibility for what happened", saying he "should have known what was going on".
'Anger and frustration'
Manager Danny Corcoran was suspended for six months while assistant coach Mark Thompson was fined A$30,000.
Club doctor Bruce Reid - the fourth senior club official to face charges - is said to be fighting to clear his name.
The AFL Chairman Mike Fitzpatrick said his organisation shared the "anger and frustration" of fans at how the scandal had dominated the headlines over the past year.
"The issues involved in the Essendon Football Club's supplements programme are deeply disturbing."
He acknowledged that the team, known as the Essendon Bombers, did not deliberately set out to break the rules.
But he added: "Essendon has acknowledged that its supplements programme failed to protect the health of players, there was a risk that players could have been administered banned substances... and Essendon is unable to determine whether players were administered banned substances.
"As such, it has been determined that Essendon has brought the game into disrepute."
The anti-doping investigation is continuing, and no charges have been laid against any Essendon player.
The probe is also targeting a club in another of Australia's heavyweight sports, rugby league.
The inquiries have sent shockwaves through a sports-mad nation that takes great pride in its reputation for fair play, reports the BBC's Phil Mercer in Sydney.