Karzai condemns Afghan attacks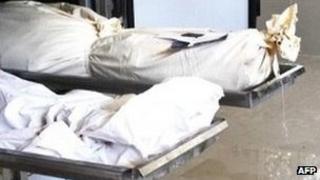 Afghan President Hamid Karzai has condemned the killing of 12 civilians in two separate attacks in Afghanistan.
Mr Karzai blamed the Taliban for the attacks and said neighbouring Pakistan had failed to use its influence to bring the Taliban to join peace talks.
He said the Taliban and their backers wanted Afghanistan "impoverished and underdeveloped forever".
Six people were killed in eastern Paktia province. Six were abducted and shot dead in western Herat province.
Condemnation
President Karzai's condemnation was expressed in the harshest of terms, the BBC's Karen Allen in Kabul reports.
The Afghan leader's comments came after a two-day visit to Islamabad where he held talks with the Pakistani Prime Minister, Nawaz Sharif. The focus of their meeting was to kick-start negotiations with the Taliban - over which Pakistan is understood by its neighbours to have some influence - but there have been no breakthroughs so far.
With elections next April and foreign troops due to leave Afghanistan by the end of next year, President Karzai is under pressure to begin negotiations with the Taliban.
However, one of Mr Karzai's key demands, the release of a high-value Taliban prisoner from Pakistan, appears not to have yet been honoured following this week's talks.
'Working for everyone'
Four engineers and two other workers - who had been working on government contracts - were found in Gulran in western Herat province. They were shot after attempts to negotiate their release failed.
Attacks on government contractors have increased as Nato prepares to withdraw its combat troops in 2014.
The men had been involved in project run by the National Solidarity Programme - an agency set up by Afghanistan's ministry of rural rehabilitation and development. The NSP is primarily funded by the World Bank.
The contractors were kidnapped on Sunday and shot late on Monday despite efforts by the provincial authorities to negotiate their release.
"We had gathered some elders to meet the Taliban to tell them that they (contractors)... worked for everyone in the country, but the Taliban killed them before they arrived for negotiations," Herat Governor Fazlullah Wahidi told Reuters.
Meanwhile, the bodies of six civilians were found in Paktia, local officials said.
The victims - all drivers - had been killed by the Taliban because they were working with the government, Paktia's deputy Governor Abdul Wali Sehee told Reuters.
The Taliban have so far made no public comments on the attacks.
On Tuesday a suicide attacker riding a bicycle detonated his explosives near a government building in Kabul. The attack happened shortly after 19:30 (15:00 GMT) close to the Water and Energy Ministry. According to the police, no-one else was injured or killed.
Earlier this month, nine road building contractors and a policeman were killed by insurgents in Herat.
By the end of 2014, all foreign combat troops are due to have left Afghanistan to be replaced - if approved by the government in Kabul - by a smaller force that will only train and advise.