Australia cadets online sex case: Two convicted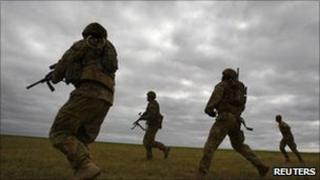 Two former military cadets in Australia have been convicted over an online sex broadcasting scandal.
Daniel McDonald and Dylan Deblaquiere were found guilty of using the internet to send offensive material.
The men, from the Australian Defence Force Academy, were accused of secretly filming a female cadet having sex and broadcasting it online in 2011.
The case led to a review of the military's treatment of women and an apology from the government.
McDonald, 21, filmed himself having sex with a female cadet and streamed it live via webcam to another room, where his co-accused and four other men were watching.
The woman, who is now 20, said she did not realise their encounter was being broadcast.
McDonald was also found guilty of committing an indecent act.
Both McDonald and Deblaquiere, 20, will be sentenced in October.
The case prompted investigations into allegations of rampant sexism within the Australian military, says the BBC's Phil Mercer in Sydney.
One official inquiry found brutal initiation ceremonies at the Australian Defence Force Academy in Canberra.
Another revealed that three-quarters of women at the academy said they had suffered sexual or gender-based harassment.
Last year, the Australian government apologised to victims of abuse in the military following an investigation that looked into more than 1,000 claims of abuse dating from the 1950s.
Officials promised that steps would be taken to ensure the sexual, physical and mental abuse would not be repeated and that reforms would be implemented.