China rules out top-level talks with Japan at G20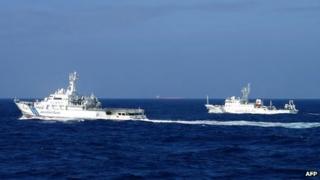 China has ruled out a top-level meeting with Japan to discuss a territorial dispute in the East China Sea, accusing Tokyo of "empty talk".
The comments came from China's Deputy Foreign Minister Li Baodong, when asked about the possibility of a leaders' meeting at the G20 summit next week.
Japan has indicated it would like more dialogue with China on the issue, which has severely strained ties.
Both sides claim ownership of a chain of islands in the East China Sea.
Japan, which controls islands called Senkaku in Japan and Diaoyu in China, bought three of them from their private Japanese owner last year - a move that angered China.
Since then Chinese government vessels have been sailing in and out of what Japan says are its territorial waters around the islands, prompting fears of an accidental escalation or clash.
Three Chinese coast guard vessels sailed into waters around the islands on Tuesday, both sides said.
"A meeting between leaders is not simply for the sake of shaking hands and taking pictures, but to resolve problems," Mr Li said.
"If Japan wants to arrange a meeting to resolve problems, they should stop with the empty talk and doing stuff for show."
It was a very public put down from Beijing and yet another sign of the serious strains between the two nations, reports the BBC's Martin Patience from Beijing.