Fonterra in Sri Lanka shutdown after new health scare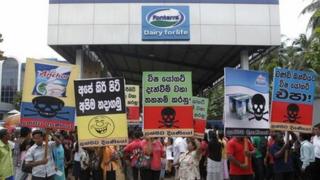 New Zealand dairy giant Fonterra has temporarily stopped its operations in Sri Lanka following allegations its products are contaminated.
A government report, which the firm disputes, said an agricultural chemical was detected in Fonterra's milk powder.
Earlier this month Fonterra recalled some of its products from the international market.
It admitted they might be contaminated with bacteria that can cause a potentially fatal illness, botulism.
Fonterra said the Sri Lanka shutdown was "to protect our people and farmers' assets".
"It is a precautionary measure to ensure our 755 people working there are safe," chief executive Theo Spierings said in a statement.
On Thursday, about 200 people demonstrated outside Fonterra's offices near Colombo, demanding its closure.
The BBC's Azzam Ameen in Colombo says Fonterra insists its products are safe, despite a local court order suspending the distribution and sale of its products.
That court order was lifted on Friday.