UN rights panel hears of North Korea 'living hell'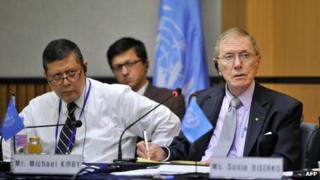 Former inmates of North Korean prison camps have been testifying before UN investigators this week in Seoul.
The three-person Commission of Inquiry, led by Australian judge Michael Kirby, has been hearing evidence at the start of its probe into North Korean human rights abuses.
One by one, before the UN panel, North Korea's former citizens told their stories - of hunger, torture and summary executions. Each story was recorded as evidence in the case against their former state.
The three investigators from Serbia, Indonesia and Australia are looking for evidence of crimes against humanity in a country they have not been allowed to visit.
Many of those testifying before them told of years spent in political prison camps hidden from public view.
Kim Young-soon, who described nine years of being imprisoned in a camp in Yodok county, was one of them.
"It was a living hell. I lost both my parents there, my husband and my child," she said.
"My parents didn't last even a year. They died from hunger. There were so many ways to die in Yodok. People could have their limbs chopped off while cutting wood, they could die from parasites, or from hunger; there was so much death that the streets would be lined with dead bodies."
North Korea denies such camps exist, but satellite photographs show vast areas of the countryside fenced into camp-like structures. And human rights groups have estimated that 120,000 to 200,000 political prisoners are held there without reprieve or trial.
At the UN hearings, a former prison guard at the camps described what the satellite photographs do not reveal: that inmates there were seen as "less than human", their existence already permanently erased from public records.
There were no trials, no appeals, he said. Torture and execution was at the captors' whim.
"They're meant to die in the camps, so we didn't see them as human beings," he said.
No access
But North Korea has not allowed the UN access to verify these stories, so how does chief investigator Michael Kirby decide if stories like these are true?
"That's always the question. I was a judge for 34 years, and I know that you can make mistakes," he said.
"But too many of the witnesses give too much detail [for that] - their lives are laid bare before us. We see shocking and terrible, but very, very detailed testimony."
He said Mrs Kim had likened the camps to the Nazi concentration camp at Auschwitz.
"We learned from World War II that there must be no more Auschwitzes; there must be no more places of that kind," he said.
"And if the international community is true to the great principles of the UN, they will take this seriously."
South Korean activists have tried for years to raise awareness of North Korean human rights.
Won Jae-chun was head of the Human Rights Commission when it began collating North Korean testimony two years ago, much the same testimony as that now being heard by the UN panel.
He believes that official international attention will drive the issue forward.
"I do believe that the conclusion of this commission will also be that these violations in North Korea are indeed international crimes, enough that the UN Security Council will refer the case to the International Criminal Court, or set up an international criminal tribunal to being people to account," he said.
Dangerous game
He said that that alone might be enough to change North Korea's political calculations.
"Until now, we have talked about 'North Korea', or 'North Korean leaders', something very abstract. But from now on, we will talk about 'Mr Kim, or Choe, who are now heads of the concentration camp'," Mr Won said.
"We will go after them and the people who are supervising them - it won't be abstract anymore. We are talking about real accountability by a real person with a real face.
"And then I wonder whether North Korea will still protect those people - and the scary thing is, they might not."
But second-guessing the North Korean leadership is a dangerous game. Even those who live there have trouble seeing the situation clearly, Mrs Kim said.
"Before I went to the camp, for my entire life, I had only felt blind reverence for the party and the Great Leader, and for North Korea, which was the most enlightened country in the world," she said.
"I think most people had a very firm belief in this. It was only when I came to the South that I realised I'd been tricked."
This inquiry is only the first step on what is potentially a long legal journey. The commission will carry out more hearings in Japan before presenting its findings to the UN Human Rights Council and General Assembly next month.
What happens after that depends largely on what the commission finds. And after so many years of apathy, there are still those - even among the witnesses themselves - who doubt whether the spotlight of international attention can really bring change.