Australia election: Rudd and Abbott conduct second debate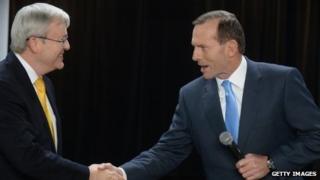 Australia's election rivals have faced off in an occasionally heated second election debate, less than three weeks before the polls.
PM Kevin Rudd and opposition leader Tony Abbott answered questions from an audience of 100 undecided voters.
The two men debated topics which included the economy, the environment and asylum at the forum in Brisbane.
At one point Mr Abbot asked if Mr Rudd "ever shut up", after the PM questioned his paid parental leave policy.
Mr Rudd responded by saying: "We're having a discussion, and that is the standard debating technique when the questions get a bit sharp."
The particular exchange centred on funding for Mr Abbott's maternity leave proposal, which Mr Rudd said was "unaffordable".
The town hall style event lasted for an hour and mostly dwelled on domestic issues including public service cuts, corporate welfare, the levy on bank deposits, cost of living and marriage equality.
It remains unclear whether there will be a third debate.
'Best country'
Mr Rudd kicked off the debate by saying that he and Mr Abbott agreed on one thing - that Australia was "probably the best country in the world".
"We've got different views about frankly how we secure our future, but I don't doubt the sincerity of his commitment to the nation and its future," he said.
For his part, Mr Abbott asked if Australia was better now than six years ago.
"Are we more prosperous, are we more confident, are you more secure, is our nation more secure?" he asked.
In his closing remarks, Mr Rudd said: "What I'm passionate about is how we build the new jobs and new industries of the future, because the world's changing out there."
Mr Abbott, meanwhile, said he wanted to "lead a government which says what it means, and does what it says".
The first debate on 11 August, where Mr Rudd had been expected to shine, was seen as a draw.
The candidates had faced an hour of questioning from a panel of journalists in the capital, Canberra, over the economy and immigration.
Latest polling ahead of the 7 September polls shows Mr Abbott with an expanded lead over Mr Rudd.
A Newspoll in The Australian newspaper on Monday showed Mr Abbott's coalition at 54%, ahead of Mr Rudd's Labor Party at 46% of the vote.