Philippines ferry crash death toll rises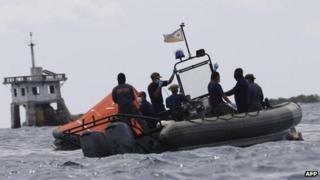 At least 52 people are now known to have died when a ferry and a cargo ship collided in the central Philippines, the coast guard said.
Search teams were still trying to locate close to 70 people missing after the MV Thomas Aquinas sank off Cebu on Friday, officials added.
Poor weather has hampered rescue operations, reports say.
On Monday, most parts of the capital, Manila, were at a standstill following floods due to heavy rain.
The ferry sank off the central port of Cebu with more than 800 people on board.
The coast guard said in a statement on Monday that more than 750 people have been rescued since the collision, which happened in calm waters around 2km (1.2 miles) from the shore.
The cargo ship, Sulpicio Express 7, had 36 crew members on board, but it did not sink.
Coast guard and military vessels helped with the search operation, but it has been hampered by rough seas.
Meanwhile, torrential rain brought about by the monsoon and tropical storm Trami flooded parts of Manila and Luzon province on Monday.
The government issued the highest-level warning, and most schools and offices in Manila and parts of Luzon were suspended. The Philippine stock exchange was also closed.
The rains come as thousands of residents in the northern Philippines last week were displaced as Typhoon Utor hit the country.
The typhoon was one of 20 forecast to hit the Philippines this year, officials say.