Pakistan Islamabad stand-off: 'Lessons are learnt'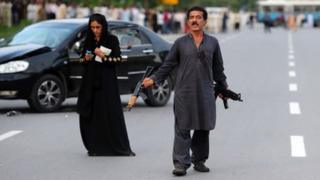 Pakistani Interior Minister Nisar Ali Khan has said that his government has "learned lessons" from a five-hour stand-off between police and a gunman on Thursday in Islamabad.
The gunman was overpowered after being shot in the leg by police when a politician tried to disarm him.
All of the incident was screened live on numerous TV channels.
Mr Ali said that police would be given better equipment and a ban would be implemented on new arms licenses.
Meanwhile, Prime Minister Nawaz Sharif has ordered an inquiry into the incident in Jinnah Avenue which will find out why police were slow to respond and why they allowed Pakistan People's Party representative Zamurud Khan to intervene.
Mr Ali said that the gunman at the centre of the incident, Muhammad Sikandar, was a drug user.
He now faces terrorism charges, local media have reported, and had three bullets removed from his leg on Friday.
Mr Ali said that Mr Sikandar was not affiliated to any terror group and that he gave orders to police that he should be taken alive because he did not want him to be shot in the presence of his children - who were at the scene of the stand-off along with their mother.
She too sustained injuries and had a bullet removed on Friday.
Mr Ali said that the incident had exposed various weaknesses within the security services who would now be issued with stun guns and infrared equipment.
"We will improve the security situation brick-by-brick," Mr Ali promised.
Mr Sikandar was in a car with his wife and two children when he was stopped for a traffic violation. He began firing two weapons indiscriminately and refused to leave the car or give up the arms.
Hundreds of reporters and onlookers gathered in Jinnah Avenue as occasional gunshots resounded in the air.
The presence of so many journalists throughout the stand-off has been strongly criticised by some Pakistanis.
Mr Ali said that the media should "co-operate with us on security issues without compromising their professional duties".