South Korea president calls for family reunions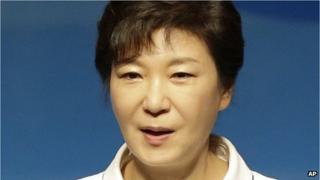 South Korea's president has called for reunions of families divided by the partitioning of the Korean peninsula to resume, a day after the two sides reached a deal on an industrial zone.
In a speech, Park Geun-hye called for a meeting to take place next month.
She also praised Wednesday's deal to reopen the shuttered Kaesong complex after months of stoppage.
But a precise date for restarting operations at the zone, which lies just inside North Korea, has not been set.
'New co-existence'
In a speech to mark the anniversary of the end of Japanese colonial rule at the end of World War II, Ms Park said she hoped a reunion meeting could take place around Chuseok, a traditional holiday that falls on 19 September.
Many families were separated at the end of the 1950-53 Korean War by the dividing of the peninsula into North and South Korea. The two sides remain technically at war, because the conflict ended in an armistice and not a peace deal, and the last reunions were held in 2010.
Ms Park also called for the establishment of a peace park in the demilitarised zone which separates the two Koreas and welcomed Wednesday's agreement on Kaesong.
"I hope this agreement will help correct wrong practices of the past inter-Korean relations and pave the way for new relations of co-existence," she said.
The Kaesong Industrial Complex is home to 123 South Korean factories which employ more than 50,000 North Korean workers. It is the last functioning inter-Korean joint project and a key source of revenue for Pyongyang.
North Korea withdrew its workers in April, angered by the expansion of UN sanctions after its 12 February nuclear test and annual US-South Korea military drills.
Tensions have eased somewhat since then, but six rounds of talks on reopening Kaesong had failed to make headway because Seoul wanted guarantees North Korea would not unilaterally shut the zone down again.
Wednesday's deal, however, came as South Korea appeared set to start moves towards a formal closure of the project.
"This agreement is not an end but only a beginning," Seoul's chief negotiator Kim Ki-woong cautioned.
"What's more important is how both Koreas can implement the agreement ... we can't say for sure when (Kaesong) will actually reopen," he added.
In a joint statement, the two sides said: "South and North guarantee the industrial zone's normal operation ... without influence of any kind from the political situation".
Under the five-point deal, a joint committee is to be established to oversee the resumption of operations and look at compensation for economic losses.
UN Secretary General Ban Ki-moon welcomed the agreement, saying he hoped operations at the zone "would be normalised as quickly as possible and that it faces no further interruptions to its work in the future'', a UN spokesperson said.