Bangladesh general strike: one person killed in Dhaka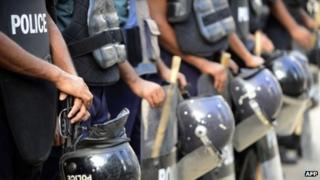 One person has been killed and at least 20 injured in clashes between Bangladeshi police and opposition activists, local media report.
The most violent clashes took place in the Jatrabari suburb of Dhaka on the second day of a nationwide strike.
Police used batons and tear gas as dozens of protesters tried to march on the streets, reports say.
On Tuesday, activists exploded crude bombs, blocked roads and burned vehicles to enforce the general strike.
It was called by the Jamaat-e-Islami party to denounce a court decision that its registration with the Election Commission is invalid - a ruling which it says will deny it the chance to contest in forthcoming elections.