North Koreans given hope of South inheritances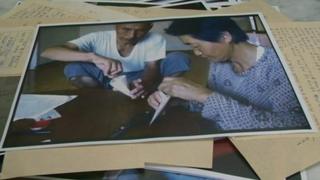 South Korea's Supreme Court has made legal history by ruling that the inheritance left by a North Korean re-settler must be shared with his children in the North.
A few years ago, four North Korean siblings chose Bae Keum-ja as their South Korean lawyer to claim a share of their father's inheritance.
Their father, who left North Korea decades ago, had remarried in the South and had several more children. When he died, his older children in North Korea filed for a share of his assets.
An odd situation, made even odder by the fact that there was no ordinary means of contact between lawyer and client, thanks to Korea's 60-year division.
With no international phone calls, postal service or email access, Ms Bae's clients instead relied on an American missionary, who carried everything out of North Korea by hand, including hair and fingernails for DNA evidence.
It worth was it - they won.
Fresh problem
"I think this ruling has given a lot of hope to people in North Korea, but these cases can only happen when there is someone in the South to get the process started and to finance it," Ms Bae said.
"North Koreans can be classified as citizens here under the South Korean constitution, but because the client is physically absent, it's easy for judges here to throw the case out."
Never before had a judge in a South Korean court ruled on a case brought by North Korean plaintiffs. But their victory created a fresh problem. South Korea has banned private transfers of money to the North to prevent funding its army. The legal barrier between the two countries might have fallen, but the political one is as strong as ever.
Video-letters produced by the Red Cross are one of the only ways for families separated by Korea's division to get a message across. But many of North Korea's earliest emigres have no idea where their relatives now are.
Cha Won-tae has not seen his daughter for 67 years. She was just a baby when he left for the South.
"I doubt I'd recognise you if we met now," he tells her in his video. "Your face has faded away."
Mr Cha, who is now very ill, says he has given up hope of a reunion.
"I've been trying to hang on to life, hoping to meet my daughter again," he said.
"She must be a grandmother now. I don't think I'll have that chance any more, but others have managed to meet their relatives - good for them, I say.
"I heard about this recent inheritance case. If I had money, I'd send it all to my family in the North."
'Outside the law'
Many North Korean re-settlers here do send money home - through a network of shadowy financial brokers, who funnel money through middlemen in China.
One such broker, Song Nak-Hwan, says he has recently begun writing about his unusual trade in the local paper, despite being - as he puts it - "technically outside the law".
"It used to be quite difficult to send money over, but it's become easier," he said.
"In the old days, it had to be done hand-to-hand, by people physically crossing into North Korea with the cash smuggled on their person. But these days we use money transfers to North Koreans living in China, or Chinese living in North Korea."
Mr Song said that in his experience, the older Koreans who came before the war in the 1950s do not tend to send much back, but the new arrivals are different.
"I'd say 80% are using this service," he said. "And they'll often send something every few months. One man sent his remaining assets before he passed away - $100,000 (£64,700) worth."
Family reunions across the Demilitarized Zone are brief and rare events, and they have been frozen for years, following the chill in political relations.
If anything, this latest court ruling shows how difficult that contact has become, as the family links between North and South continue to ebb away.