Australia election: Tony Abbott 'sex appeal' comments under fire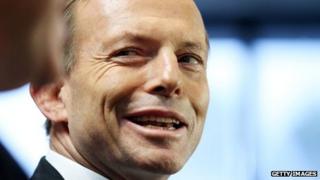 Australian Prime Minister Kevin Rudd has criticised his election rival after opposition leader Tony Abbott praised a candidate's "sex appeal".
Mr Rudd, who faces an uphill battle in the 7 September polls, said national leaders should set an example.
Mr Abbott has put his comments down to "exuberance".
An opinion poll on Monday put Mr Abbott's Liberal-National coalition four points ahead of the ruling Labor Party, at 52 points to 48.
The poll came a day after a televised debate between the two rivals that was widely seen as a draw.
Mr Rudd ousted Julia Gillard in June amid polling figures showing Labor was on course for a substantial loss. Under Mr Rudd the gap has narrowed significantly but Labor remains behind.
The comments by Mr Abbott - who was last year accused by Ms Gillard of misogyny in a fiery parliamentary speech that attracted global attention - came in western Sydney on Tuesday in reference to candidate Fiona Scott and her predecessor.
"They're young, they're feisty, I think I can probably say have a bit of sex appeal, and they're just very, very connected with the local area," Mr Abbott said.
Mr Rudd said an employer who made similar remarks about a staffer would be in "serious strife".
"My policy's pretty simple, that in modern Australia, neither sexism nor racism nor homophobia has any place whatsoever," he said. "I believe people look to our national leaders to set that sort of example."
Mr Abbott described his comments as a "dad moment" and shadow treasurer Joe Hockey said Mr Abbott had no "ill intentions".
On Monday Mr Abbott made headlines when he made a reference to the "suppository of all wisdom" - mistaking the word with "repository".