Abbott accused of new campaign 'gaffe'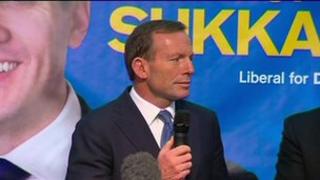 With the "suppository of wisdom" slip-up barely behind him (sorry, it's too easy), Tony Abbott has drawn more "gaffe" headlines after saying that a female candidate from his Liberal Party had "sex appeal".
Mr Abbott was out on the campaign trail with Fiona Scott, the Liberal candidate in the New South Wales seat of Lindsay, when he was asked about any similarities that she might have with the former Liberal MP for the seat, Jackie Kelly.
"They're both good, young, feisty. I think I could probably say they have a bit of sex appeal, and are just very connected to the local community," he replied.
Mr Abbott has put it down to being a "bit exuberant".
But this is the man who was famously accused of misogyny in a blistering speech by the then Labour Prime Minister Julia Gillard. And for his critics it will be fuel to the fire.
I guess the question is: will the Australian voters see it as a gaffe or not?