Rare Tibet photos and artefacts are auctioned in the UK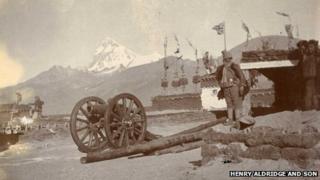 Rare photographs from a British military expedition into Tibet in 1904 have been auctioned in Britain.
The 140 photos were sold by a descendant of the expedition, which was led by Colonel Francis Younghusband.
The images sold for more than £12,000 ($18,000).
Historians says that the expedition was in effect a temporary invasion of Tibet by British-Indian forces to counter Russia's perceived ambitions in the area and protect British India.
The photos, described by Wiltshire-based auctioneers Henry Aldridge and Son as "hauntingly depicting the beauty of the secluded country [of Tibet] for the first time in the West" include military and civilian scenes.
The auction included a small number of religious icons brought back to Britain from the expedition, including a Sino-Tibetan deity surrounded by turquoise jewels and measuring only 5in (12.7cm) in height. It sold for £45,000 ($70,000)
Another slightly taller Sino-Tibetan deity - embellished with small turquoise, pink and blue stones mounted on a lotus stand - sold for £77,000 ($120,000) to a buyer in the auction room against competition from phone bidders in China, Hong-Kong and the US.
Auctioneer Andrew Aldridge told the BBC that Col Younghusband's expedition proved to be a "highly controversial colonial venture".
"Thousands of Tibetans armed with antiquated muzzle-loaders and swords were reportedly killed by British troops armed with more up-to-date rifles and Maxim machine guns at what has become known as the massacre of Chumik Shenko," Mr Aldridge said.
One officer at the time wrote about getting so sick of the slaughter that he ceased firing, even though the order was "to make as big a bag as possible".
"I hope I shall never again have to shoot down men walking away," wrote Lieutenant Arthur Hadow, commander of the Maxim guns detachment.