Cambodia election committee confirms Hun Sen party win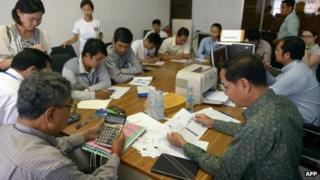 Cambodia's election committee has confirmed the ruling party's election win, despite opposition protests.
The National Election Committee said PM Hun Sen's Cambodian People's Party (CPP) secured a narrow victory in the 28 July polls.
But the opposition Cambodia National Rescue Party (CNRP) said it would not accept the results unless allegations of electoral fraud were addressed.
The poll results are the worst for the ruling CPP in over a decade.
The election committee said the ruling party secured 3.2m votes to the opposition's 2.9m votes.
The final allocation of seats for the 123-member parliament remains unclear and has yet to be announced.
Political parties could still file complaints over the results, the election committee said.
'Complaint'
In the immediate aftermath of the poll, the CPP said it won 68 seats in parliament to the opposition's 55.
But opposition leader Sam Rainsy said the result was 63-60 in CNRP's favour, and has called for an independent committee to investigate poll irregularities.
The government has so far rejected the request and tightened security in the capital, Phnom Penh, last week.
"We will file a complaint against the results in accordance with the law," deputy CNRP head Kem Sokha told reporters on Monday.
"The CNRP wants to resolve the problems peacefully and we want to have a process that everyone can accept," he said, adding that protests would be the last resort.
Both the US and the European Union have expressed concern over the conduct of the polls and have called for an investigation.
The dramatic drop in the CPP's share of the vote is a serious setback for the prime minister, who has been in power for 28 years, says BBC South East Asia correspondent Jonathan Head.
The rise in support for the opposition is being attributed to frustration over corruption in official circles, and the rough treatment meted out to opponents of Hun Sen, our correspondent adds.
Hun Sen, 60, who once said he intended to stay in power until he was 90, has since said he only intends to be leader until he is 74.