North Korea: Detained US man Kenneth Bae 'seriously ill'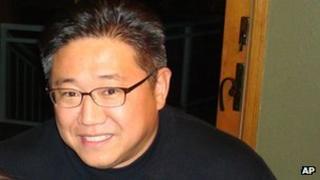 The family of an American missionary who was detained in North Korea last year says he is seriously ill and has been moved from a labour camp to a hospital.
Kenneth Bae, who was sentenced to 15 years' hard labour for trying to overthrow the North Korean government, has diabetes and an enlarged heart.
His sister says the 45 year old is now too weak to work.
The US government has appealed to North Korea to release Mr Bae.
Mr Bae (known in North Korea as Pae Jun-ho) was detained last year after entering North Korea as a tourist and sentenced in May this year.
He was said to have used his tourism business to form groups to overthrow the government.
His sister, Terri Chung, said on Saturday he had recently been visited by a Swedish diplomat and that her brother was now in a hospital.
"We're terribly worried about his health. I think it has been deteriorating," she told the KING5.com news website in the US.
North Korea has arrested several US citizens in recent years, including journalists and Christians accused of proselytism.
They were released after visits to Pyongyang by high-profile officials, including former presidents Bill Clinton and Jimmy Carter.