Murdoch row amid Australia election campaign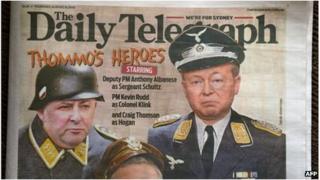 A row has deepened in Australia as a tabloid owned by Rupert Murdoch continued to rubbish PM Kevin Rudd.
On Thursday, the Daily Telegraph depicted Mr Rudd as Colonel Klink, a bumbling Nazi commander from 1960s comedy Hogan's Heroes.
The paper also ran the headline: "Kick this mob out" the day after Mr Rudd called an election for 7 September.
On Wednesday, Mr Rudd accused Mr Murdoch of interfering in the polls to protect his commercial interests.
Mr Rudd, who replaced Julia Gillard as Labor Party leader in June, faces an uphill battle against the Tony Abbott-led Liberal-National coalition in the polls.
Rupert Murdoch's News Corporation is the dominant player in Australia's newspaper market and his Daily Telegraph has taken a vehemently anti-Rudd stance.
'Thin-skinned'
Thursday's image depicted Mr Rudd, Deputy Prime Minister Anthony Albanese and Craig Thomson as characters from the show set in a German prisoner-of-war camp.
It came after Mr Albanese and Mr Thomson - a disgraced former Labor MP facing multiple fraud charges - were seen drinking beer at a bar in Sydney.
Speaking in a television interview on Wednesday night, Mr Rudd said Mr Murdoch had shown "through his own direct statements that he wants Mr Abbott to replace me as prime minister".
He suggested that it could be because Labor's National Broadband Network (NBN) policy represented "a commercial threat to Foxtel", a cable TV company part-owned by Mr Murdoch, and called on Mr Abbott to disclose any discussions he may have had with Mr Murdoch about the NBN policy.
In response, Mr Abbott accused Mr Rudd of being "thin-skinned", saying: "Have I ever spoken to Rupert Murdoch about the NBN? No, I haven't."
In a tweet on Tuesday Rupert Murdoch had questioned how the NBN plan could be financed. Labor's A$37.4bn ($34.2bn, £21.8bn) plan promises to provide a high-speed internet connection to every home.
But in a statement on Wednesday reported by the Australian Broadcasting Corporation, News Corporation said: "Any suggestion that the editorial position of our newspapers is based upon the commercial interests of Foxtel demonstrates a complete ignorance of both our business and of Foxtel."
Earlier this week, a News Corporation spokesperson defended The Daily Telegraph, saying it was exercising its right to editorialise as it chose, and pointing out it supported Mr Rudd in the 2007 polls.