Tight security for Thai amnesty bill debate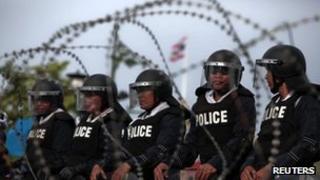 Security is tight in the Thai capital as parliament prepares to debate a controversial bill that would grant amnesty to those involved in political violence since 2006.
Critics fear the law could allow ex-leader Thaksin Shinawatra to return without serving a prison sentence.
About 2,000 activists marched ahead of the debate, with hundreds of security personnel deployed around parliament.
Mr Thaksin left after being ousted in 2006. His sister Yingluck is now PM.
'Hidden agenda'
The bill would grant amnesty to those convicted of, or charged with, political violence that took place after the coup that ousted Mr Thaksin, including the mass street protests that paralysed Bangkok in 2010.
The legislation specifically excludes leaders of the protests. But critics say the bill could serve as a way of allowing Mr Thaksin - who was ousted by the military - to return without the risk of jail.
"It's not about organising a mob but about spreading the truth to the people, to recognise the dangers of this amnesty bill, that there are different hidden agendas," opposition leader Abhisit Vejjajiva said as he led the marchers to parliament.
Thailand remains deeply divided in the wake of several years of political instability.
Mr Thaksin served as prime minister from 2001 to 2006, until his removal by the military, which accused him of corruption and authoritarianism.
He was convicted of abuse of power in 2008 and sentenced in absentia to a prison term of two years.
He denied the charges, calling them politically motivated, and in the years following the coup remained popular with poor and rural voters, whom his policies had benefited.
After the first post-coup polls saw his allies elected, anti-Thaksin yellow-shirt protesters subsequently shut down Bangkok's main international airport for several days.
Mr Abhisit then formed a government - which in 2010 was hit by more than two months of street protests by red-shirt demonstrators in Bangkok that left more than 90 people - protesters, civilians and soldiers - dead.
A government led by Mr Thaksin's sister Yingluck is now in power, after victory in elections held after the violence.