China tallest building, Shanghai Tower, gets final beam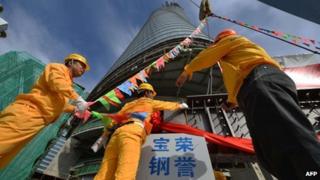 Work on the main structure of China's tallest building, the Shanghai Tower, has been completed.
A flag-waving ceremony took place as the last steel beam was hoisted and installed at the top of the skyscraper.
Once completed, the structure will reach over 630m, making it the second-tallest building in the world after the Burj Khalifa in Dubai.
It is the last in a group of newly-built towers in Shanghai's financial district amid China's economic boom.
It will become part of the city's Lujiazui Finance and Trade Zone, which includes the Shanghai World Financial Center and Jin Mao Tower, both among the tallest in the world.
After the final beam was installed, the Shanghai Tower formally overtook Taiwan's 509m Taipei 101 building to become the tallest in east Asia.
It will still stand some 200m shorter than the Burj Khalifa, which soars to a height of almost 830m.
The Shanghai tower cost an estimated 14.8bn yuan ($2.4 bn, £1.6 bn) and is due to be completed in 2014.
Work on the tower began in 2008; it was designed by the US firm, Gensler.
Once completed, the tower will contain retail and office space, a luxury hotel and possibly even a museum.
"It's a landmark and it will change the skyline of Shanghai," Gensler's Xia Jun told a news conference following a "topping out" ceremony - when the final beam is placed at the top of a building.
"I don't think the importance of an architecture [sic] lies entirely in its height," he added.
Construction workers are now due to start work on the building's interior.
Concerns were raised last year after cracks started to appear in the ground close to the building, amid fears of subsidence.
However, one of the tower's chief architects, Ding Jiemin, said while these were problems during the construction period, it "will not affect the security of the architecture".