Indonesians missing after boat sinks off Malaysia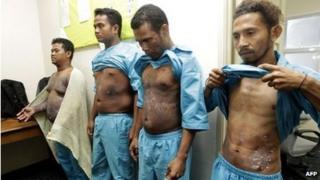 Malaysian rescue workers are searching for more than 30 Indonesians missing after their boat sank in heavy seas off Johor state late on Thursday night.
The Indonesians, who are thought to be illegal workers, were three hours into their journey home to celebrate the end of the fasting month of Ramadan.
Several survivors were picked up after clinging to boat debris for 15 hours.
Malaysia is a hot spot for thousands of illegal workers from poorer neighbouring countries.
It is thought the Indonesians travelled by boat in order to bypass border controls on their way home.
Two ships, four speedboats and two helicopters are involved in the search for survivors, an official with the Malaysian Maritime Enforcement Agency (MMEA) told the AFP news agency.
"Our operations are ongoing but we have found nothing yet...The condition of the boat was believed to be questionable," Amran Daud said.
The boat was journeying from Tanjung Sedili on the south-east tip of the Malaysian coast to Indonesia's Batam island.
Hours after they left, strong waves overturned the boat, leaving more than 30 passengers adrift with some holding onto plastic drums to stay afloat.
Women and children are thought to be among the missing.
Officials say fishermen rescued picked up at least four survivors.
It is the second incident in Malaysian waters in two weeks after one woman drowned and 27 were rescued when a boat sank on 18 July.
Shipping accidents off Malaysia's coast are relatively common as illegal migrants try to find work in the relatively affluent country.
It is also a key transit hub for asylum seekers fleeing unrest in their own countries, such as in Burma (Myanmar).
The authorities are trying to clamp down on the number of people entering the country illegally by stepping up patrols and stopping boatmen from taking bribes.