Kazakh opposition oligarch Ablyazov arrested in France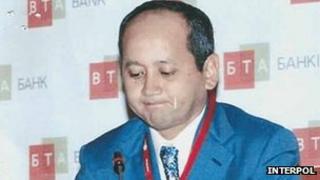 French police have arrested Kazakh fugitive opposition oligarch Mukhtar Ablyazov, who is accused of embezzling billions of dollars, officials say.
He was detained in a village near the southern city of Cannes on Wednesday.
The former energy minister and head of BTA bank is wanted in Kazakhstan, Russia and also reportedly in Ukraine.
The 50-year-old denies the allegations, saying they are designed to eliminate him as a political rival to Kazakh President Nursultan Nazarbayev.
Human rights campaigners have accused Mr Nazarbayev of silencing independent media and persecuting political opponents, as well as using the police and courts to keep a tight grip on power.
'Personal vendetta'
Mr Ablyazov was detained in Mouans-Sartoux on Wednesday, the officials said.
BTA has filed a lawsuit in Kazakhstan, accusing him of siphoning off billions of US dollars from the bank.
The bank has won numerous court judgments to recover some $4bn (£2.6bn) of Mr Ablyazov's assets.
Separately, Russia has been seeking his arrest through Interpol on charges including "large-scale fraud", money laundering, abuse of authority and document forgery.
The Kazakh prosecutor general's office said on Thursday that Interpol had informed it of the arrest.
Mr Ablyazov was jailed in 2002 in Kazakhstan for abuse of power - a year after he set up an opposition party. He was pardoned in 2003 and spent the next two years in Russia.
He then returned to his native country where he led BTA until 2009. He fled Kazakhstan in 2009 after his bank was nationalised.
In 2011, he was granted political asylum in the UK, but later left the country after being sentenced to jail for contempt of court.
Mr Ablyazov's son, Madiayar, has recently accused President Nazarbayev of waging a "personal vendetta" against his father, according to Reuters.
In July, the Italian interior minister's chief-of-staff resigned amid a political storm over the deportation of Mr Ablyazov's wife and six-year-old daughter.
Italy has since admitted that the expulsion was illegal and asked Kazakhstan to return them.