Thailand's King Bhumibol Adulyadej leaves hospital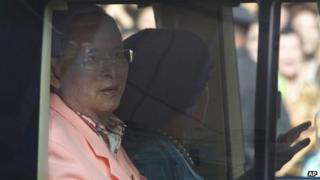 Thailand's King Bhumibol Adulyadej has left hospital after almost four years of treatment, reports say.
The king, 85, was admitted to hospital in Bangkok for a lung infection in September 2009.
King Bhumibhol, who is the world's longest-reigning monarch, is heading for his seaside palace with his wife, Queen Sirikit.
The king plays no official political role, but is widely respected as a unifying figure in the country.
He left Siriraj hospital for Klai Kangwon Palace - translated as Far from Worries - in Hua Hin, Prachuap Khiri Khan province, located 145km (90 miles) south of Bangkok, officials said.
It has never been clear why King Bhumibol has remained in hospital for so long, nor is it clear yet why he is leaving, says the BBC's Jonathan Head in Bangkok.
Queen Sirikit has also not been seen since she was admitted to hospital a year ago suffering from what royal doctors described as "reduced blood flow to the brain", our correspondent adds.
Thousands of well-wishers, many wearing the royal colours of yellow and pink, lined the streets and chanted "Long live the king!", reports say.
King Bhumibol, who has reigned through numerous military coups, constitutions and prime ministers, is widely revered by the public.
But the country also has harsh laws which punish any criticism of the monarchy with up to 15 years in prison.
He has been suffering from a range of illnesses, including what the palace said was "subdural bleeding" in the brain last year.
He has, however, left hospital on rare occasions to perform state functions, including meeting US President Barack Obama during his visit in 2012.