Twins for New Zealand couple who lost triplets in fire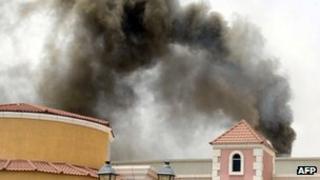 A New Zealand couple whose triplets died in a fire in Qatar have now had baby twins.
The triplets of Jane and Martin Weekes died in a nursery in Villaggio shopping mall in Qatar in May 2012, in a fire blamed on an electrical fault.
The blaze killed 19 people, including 13 children.
The twins were born on Wednesday in Auckland. Mr Weekes said he was "very very happy" with the "addition to [the] family".
"It's definitely a relief that they've been born healthy and safely because it's always a worry," Mr Weekes told New Zealand paper The Dominion Post.
"I guess probably more so for us because of having lost Lillie, Jackson and Willsher."
The twins, Poppy and Parker, were conceived by IVF treatment, and delivered by caesarean section on Wednesday.
"The sad thing is that Lillie, Jackson and Willsher weren't there to greet them... they would have had enormous fun with their new brother and sister," Mr Weekes said.
Mr Weekes also has three older children from a previous marriage.
Five people were jailed for negligence over the fire, including the owners of the nursery.