US and Pakistan to resume key high-level security talks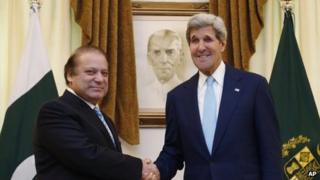 US Secretary of State John Kerry has agreed to resume high-level talks over security issues with Pakistan.
The agreement was made after Mr Kerry met senior Pakistani politicians, including new PM Nawaz Sharif.
The talks were stalled after 24 Pakistani soldiers were killed in US air strikes on a Pakistani post on the Afghan border in 2011.
Relations were also strained by the US killing of al-Qaeda leader Osama Bin Laden in May of that year.
Speaking after the talks on Thursday, Mr Kerry said they were "constructive" and "positive".
"We are here to speak honestly with each other, openly about any gaps that may exist that we want to try to bridge," Mr Kerry said. "Our people deserve that we talk directly."
He said the two sides were serious about overcoming past irritants and that he had invited the new prime minister to Washington to meet US President Barack Obama.
The secretary of state said the common interests of Pakistan and the US outweighed any differences they had.
"The Pakistan-US relationship is not defined by threats we face and is not just about counter-terrorism, but about the economic revival of Pakistan," he said.
He emphasised their relationship was strong enough to withstand threats from the extremists.
The BBC's M Ilyas Khan in Islamabad says the resumption of the "strategic dialogue'' indicates that their relationship has improved since the low points of 2011 and is now on course to normalisation after nearly three years of bad blood.
The closed-door talks between Mr Kerry and Mr Sharif focused on the economy, Pakistan's energy shortages and security ahead of Nato's withdrawal from Afghanistan next year, officials said.
Mr Kerry insisted the US was "drawing down, not withdrawing" from Afghanistan and that he was confident Washington would reach agreement on future troop levels with Afghan President Hamid Karzai.
Mr Kerry also strove to ease tension over controversial US drone strikes against suspected militants.
CIA strikes killed up to 3,460 people in Pakistan between 2004 and 2013.
The troubled border region of North Waziristan is considered an al-Qaeda and Taliban stronghold and US drones regularly target the area.
Mr Sharif, who won elections in May, has demanded an end to such attacks, saying they violate his country's sovereignty.
Parts of the Pakistani government and military have often been accused of criticising the use of drones in public, but co-operating in private.
Earlier this year, Mr Obama said the strikes were part of a legitimate campaign against terrorism, but he also pledged more transparency and stricter targeting rules.
'Historic transition'
The US secretary of state also held talks with Pakistani army chief Gen Ashfaq Kayani and President Ali Asif Zardari in Islamabad on Thursday.
It is Mr Kerry's first trip to Pakistan as secretary of state, although he has a long history of dealing with Pakistan as former chairman of the Senate Foreign Relations Committee.
Before the pair began their talks, Mr Sharif described him as "a wonderful friend", while Mr Kerry replied that he "had the pleasure of visiting Mr Sharif's home and having a number of meals with him''.
The secretary of state paid tribute to Mr Sharif's victory at the polls. It marked the first time that an elected civilian Pakistani government completed a full term in office and handed over to another.
"This is a historic transition that just took place. Nobody should diminish it," he told US embassy staff.
US officials travelling with Mr Kerry said Pakistan - although still formulating its counter-terrorism strategy following a spate of militant attacks - is likely to continue clampdowns on militants, but also engage them in talks.
The last visit by a US secretary of state was in 2011, after Osama Bin Laden was killed.