Australia panel recommends charges in NSW Labor probe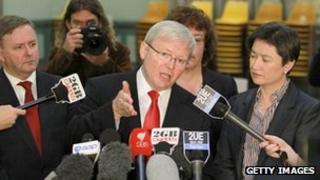 Two Australian state lawmakers should be charged with corruption, a probe has found, in a move that could hit Labor ahead of an imminent election.
The Independent Commission Against Corruption (ICAC) recommended New South Wales' former mining minister and another MP face charges over the granting of a mining licence.
It said the MP's family stood to profit from inside knowledge of the deal.
The move comes as Australia prepares for a general election.
Polls must be held by 30 November but are expected earlier.
Kevin Rudd, who successfully challenged Julia Gillard for the ruling Labor Party leadership last month amid dismal polling figures, has not yet specified when the election - originally set for 14 September - will be held.
While his numbers are improving, he faces an uphill battle in New South Wales, where poll numbers show Labor far behind the opposition coalition.
Mr Rudd said he was "disgusted" by the revelations.
"Anyone who is responsible for corruption, for illegal behaviour, should face the full force of the law," he said ahead of the commission's announcement. "That's what I want to see happen."
'Confidential information'
The ICAC probe spent months investigating whether the two lawmakers, plus six other individuals, should be charged in connection with the award in 2008 of a lucrative mining licence.
It heard that former state mining minister Ian Mcdonald granted the licence over land owned by the other lawmaker, Eddie Obeid. Both represented the Labor Party.
The Obeid family, the ICAC found, had urged acquaintances to buy up land in the area for subsequent sale to mining companies, concealing their involvement.
The commission found that Mr Macdonald "acted contrary to his public duty... by arranging for the creation of the Mount Penny tenement to benefit Edward Obeid Sr, [his son] Moses Obeid and other members of the Obeid family" and "by providing... members of the Obeid family with confidential information".
The ICAC had referred the case to the NSW Director of Public Prosecutions (DPP), it said.
Mr Mcdonald told Australia's Channel Nine: "I believe these findings are not justified by the evidence when it is carefully read and analysed, and I will be seeking a review of this through the court process in the near future."
In a statement, Eddie Obeid said that he did not act "in any way that could amount to corrupt conduct", adding he reserved his right "to seek judicial review in respect of the adverse findings''.
In a related case, the ICAC found that there was no evidence to show former state roads minister and treasurer Eric Roozendaal acted corruptly when he bought a car - at a substantial discount - from Moses Obeid.
But it found Moses Obeid acted "as an inducement for Mr Roozendaal to show favour to Obeid business interests in the exercise of his official functions", and referred him to the DPP.
And in a third probe, it found that Mr Macdonald engaged in corrupt conduct by using his influence to arrange a meeting for an acquaintance and "by soliciting the services of a woman as a reward".