Cambodia's national elections: Your experience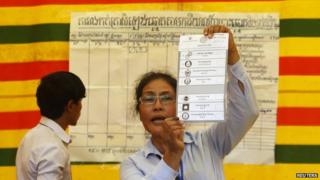 Cambodia's People's Party has claimed victory in national elections by 68 seats to the opposition's 55 seats.
The opposition, Cambodia National Rescue Party, says it rejects the result of Sunday's poll, citing "serious irregularities".
Names were missing from voter lists and some voters found others had used their ballots, reports claimed.
Here voters share their experience of casting their ballots.
Socheata, a 30-year-old office worker from Phnom Penh
My village is far away and it would have taken me the whole day to travel there from the capital. My employer gave me the option to vote in the election or volunteer to become an election monitor. I have voted many times before and I was interested in seeing the process for myself, so I chose to become an observer.
I was very disappointed. I visited three polling stations and a central office. A lot of people who turned out to vote could not find their names on the register. People were shouting and crying. Last time in 2008 when people couldn't find their names on the register they just walked off. This time they stayed and shouted and cried. There's more momentum this time, you can feel it.
I was impressed by how engaged young people are. Last time they were mainly interested in entertainment and hobbies and doing fun things. This time, when the opposition leader gave a speech in the run up to the elections, so many young people wearing campaign T-shirts and caps and waving posters turned out on the street, in the heat, and waited to hear him. I think there was almost a million young people.
The ruling party thought young people would vote for them, but they underestimated young people and their desire for change. Although young people said they would vote for the ruling party, in reality they cast their vote in contrast to what they had said.
The election was a success from the perspective of being peaceful, mainly, but there were a lot of irregularities and fraud. I think the flaws were deliberate because this has been a recurring problem. The ruling party was meant to reform the election process but that is just one more thing they have failed to deliver.
You are meant to have formal ID with you to vote, but if you don't have any ID then you can apply in advance for registration papers.
The forms can easily be manipulated because you only need to get two witnesses to say they know you to be issued with a form, whereas your national identity card, family book and other forms of ID are much more solid forms of ID.
Last election there were 500 of these registration forms issued, this time 1.5 million forms were issued. That is much less secure.
Jean, a French literature undergraduate from Takeo province
This is the first time I was eligible to vote. There were five rooms and I had to go into one room and my mother had to go into another. Each room has a list of names.
I found my name on the list then I found her name on my list too so I shouted to her, you're supposed to be over here. She said, 'No, I'm supposed to be here,' so we found an official to talk to and they said there must have been a mistake as her name was printed on two lists.
I know of three people from my village who tried to vote except someone else had been there before them and they were told, 'no you can't vote, you have voted already'. I don't think it was very well organised.
The days before the election people were excited and happy, but then when the results came in I felt so disappointed, I couldn't accept it and I felt like I couldn't breathe. The next morning when I went to the market to buy food, there was no noise, it was silent. I think everyone was disappointed.
Dalis from Phnom Penh
My experience was that everything went smoothly. I was in and out in about 10 minutes or less and I found my name really easily. One problem though, that didn't happen to me, but my friend and my cousin said their ink washed off pretty easily.
They give you ink on your finger to show that you have voted, so that you can't go round again, but they found their ink was very easy to wash off, which is a bit worrying, but as I said, I had no problems.
If there have been voting irregularities though, then I will not accept the result of the election.
Doeur, a recent psychology graduate and election observer
I worked as an election observer and received information from many different centres.
There were many problems.
The biggest complaint was people's names had been lost from the register.
Another problem was with intimidation.
Members from the Communist People's Party gathered about 100 metres away from the polling station and people were afraid to vote for anyone else.
In one place security didn't allow us inside to observe.
Bunthai from Phnom Penh
I didn't notice any problems.
I was in and out of the election poll within 5 minutes and it took no time all for the officials to find my name on the registry list, once I had handed them my national ID card and my registration receipt.
I didn't notice anyone with ID and their receipt who was denied entry.
Baby Sangha, an economics professor from Kandal province
This is the first time I have voted. Last time I didn't think anything would change but now there is a very strong Western-educated opposition candidate.
People are sick of the corruption, there's a lot of injustice here and people don't want to stand for it any more.
This election is very important and a lot of people I know had to travel a long way from their work place to vote.
There is corruption at every level of society. If you want to sell your house you have to pay under the table to officials, as well as paying the estate agents. When I got married and wanted to have my marriage certificate I had to pay an official, even though it is meant to be issued for free.
It took me three hours to find my name on the voter registration list but I didn't give up and finally I found my name.
When they started counting the ballots there were a lot of people excitedly running from room to room as the number of CNPR votes far outweighed the CPP votes.
We were so excited. I was at home when the official results were announced though and they were so different from what we had seen. We couldn't believe it.
Interviews by Sitala Peek