Change in the air as Cambodia votes?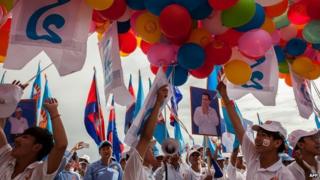 In Phnom Penh, the streets are filled with flags and billboards from the eight parties contesting Sunday's general election.
Brightly-coloured images calling on Cambodians to make the right choice adorn the boulevards.
Up for grabs are 123 seats in parliament, with some 9.6 million people are expected to vote - many of them for the very first time.
But although there are several parties vying for victory, there are only two that Cambodian voters are truly paying any attention to.
The Cambodian People's Party (CPP), run by Prime Minister Hun Sen, has been campaigning on a platform of continued development and stability.
Hun Sen, one of the world's longest-serving prime ministers, has been in power in Cambodia for 28 years.
Many here credit him with having steered the nation out of a civil war and raising living standards for the population of 14 million.
Under him, Cambodia has seen strong economic growth, thanks to a combination of foreign aid, development, tourism and garment exports.
But Hun Sen has also regularly been accused by human rights groups of keeping a tight grip on power by clamping down on any form of dissent.
Now analysts say there appears to be a definite desire for change among some of the electorate.
"There's something different in the air," said Jackson Cox, a political and economic risk consultant and keen Cambodia-watcher.
"I'd hate to make predictions, but I can't see how the opposition would not increase their share in the national assembly."
The opposition Mr Cox is referring to is the Cambodian National Rescue Party (CNRP) - a group formed as a result of the merger between the Sam Rainsy Party and the Human Rights Party.
As separate entities, they were no match for the might and political machinery of Hun Sen's ruling CPP. But by joining forces, the CNRP is posing the biggest challenge to the current regime that Cambodia has seen in decades.
That is despite the fact that opposition party leader Sam Rainsy is not being allowed to contest in these elections, after returning from a self-imposed exile abroad.
'We want more'
Mr Rainsy left Cambodia after being jailed in absentia in 2010 on charges he says were politically motivated.
He was granted a royal pardon and allowed to return last week to Cambodia.
Observers say the turnout he received when he returned was unprecedented - thousands of enthusiastic and emboldened supporters greeting him as he arrived back in Phnom Penh.
"I think Mr Rainsy and his party have a very simple message," said Mr Cox. "It is striking a chord with people. Do you like the way things are or do you want change? Many Cambodians are screaming for change."
"There is also no longer that cloak of fear, the way it used to be in the past. People aren't afraid to be out on the streets and true to themselves."
And that certainly appears to be the sentiment among many of the urban youth in Phnom Penh.
I sat down with a group of young men and women in a cafe in the city, and many expressed a desire for greater political participation in their country.
"I acknowledge that the current government has made huge improvements and strides in this country since the days of the war," says 32-year-old Chulsa Heng.
"But we want more. I still think Cambodia has a long way to go, and it's still not enough."
First-time voter Ngoun Somaly said that regardless of who she ended up choosing on polling day, there were many issues that the current government was not paying enough attention to.
"Human rights violations, land grabbing from rural peasants and a lack of job opportunities for Cambodia's graduates - we need to see more firm action on that," she said.
"Whoever wins the election must work hard to fix these problems. I really want to see these human rights issues solved."
'Toe the line'
But analysts say regardless of the swelling popularity of the opposition, it is unlikely it will be able to unseat the ruling party's majority in parliament.
"Of course Hun Sen and the Cambodian People's Party will win this election," said Sophal Ear, author of Aid Dependence in Cambodia: How Foreign Assistance Undermines Democracy.
"When you control much of the media, and you have schools and bridges named after you, when the National Election Committee is under your thumb - how could you not?
"People know what's good for them in Cambodia and that is to toe the line. Any threats have been beaten back or neutralised."
Human rights groups have already warned that the elections on Sunday may not be free and fair.
The National Democratic Institute released a report this week on the government's voter list. It said it has found that 10.4% of voters listed could not be located and 9.4% of eligible voters had been deleted from the list.
New York-based Human Rights Watch (HRW) claims that Cambodia's security forces are openly campaigning for Prime Minister Hun Sen and the ruling CPP party.
"When security forces take sides in elections, voters feel intimidated," said Brad Adams, Asia Director of HRW in a press statement.
"Voters should feel protected by security forces, not threatened."
But Hun Sen's youngest son, Hun Many, 29, contests those claims. Head of the ruling party's youth wing, he is running for a seat in parliament in this election.
"Is there any proof to these allegations?" he asked, as he greeted cheering supporters at a campaign rally. "At every election there are always these complaints - and not just in Cambodia it's all over the place."
"In Thailand, in Malaysia - Prime Minister Najib received the same criticism. If there is proof, present it to the National Election Commission and let them decide!"
These elections are being billed as Cambodia's most historic since the UN oversaw the first of Cambodia's elections in 1993, after the Paris Peace Accords.
While Prime Minister Hun Sen is expected to remain victorious, Sunday's results could see the biggest and most serious challenge to his almost three-decade rule.